What exactly is Snapchat, its age rating, and what's the big deal here?
Snapchat is an incredibly popular social media platform for teens and pre-teens. Despite the age rating being 13, it attracts users of all ages due to its quirky exploration of visual expression, using avatars and filters, among other things. Simply put, it's real fun. And they're smart in how they put it all together. The user experience has kids coming back repeatedly as they trade messages, videos and photos (Snaps) and are rewarded with an increasing SnapScore for their engagement.
Snap launched in 2011 and released its Stories function in 2013, originally gaining hype due to its promise of a Snap disappearing which would protect your privacy, as the platform deletes content after the recipient has viewed the Snap. However kids screenshot so this largely negates the promise.
What do parents need to know?
Why is it popular with teens (and pre-teens)?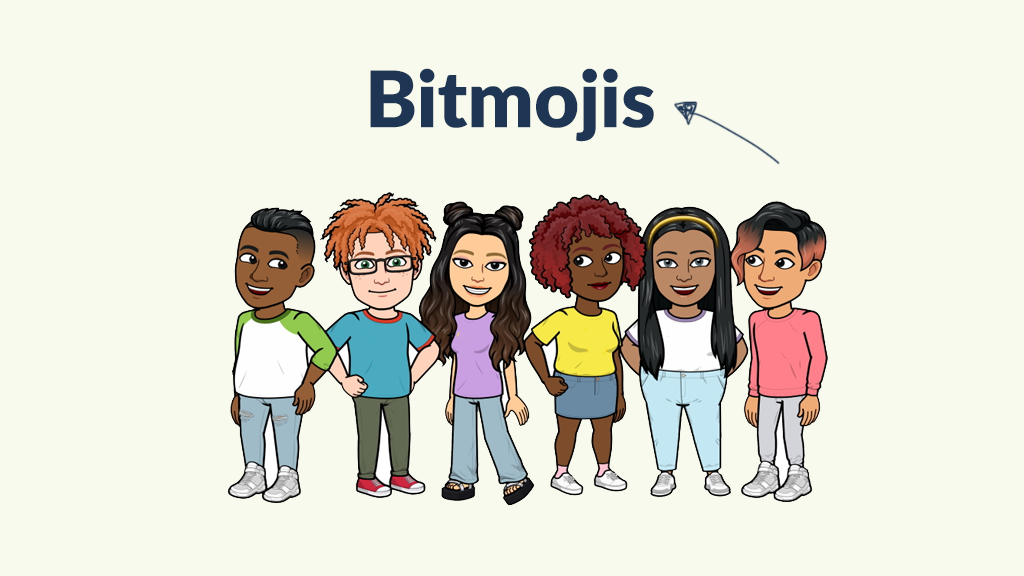 Before we start, we need to understand that we gave the device to our kids, or the school did, and this issue will not relent. We need to be accountable for the role we played, and we need to spend more time educating them. True story. Kids look competent online, but they're lacking emotional skills to manage. Furthermore, for some kids (emphasise 'some'), being social online with a tight group of friends (actual close or trusted friends, and not strangers) can be a safe space depending on the child. Not all children are the same. But all children need help.
Bitmojis
Firstly, this is a social network and highly visual one, it's clever and quirky. You create your own Bitmoji, which is essentially a little illustrated icon that represents you. And you can actually build this specifically inside the app, which kids love to do.
Snapchat Cameos
These are these very cool little gifs of your bitmoji with different emotions and different reactions, which flash around and act as an expression of your digital Snap identity and how you might be feeling at the time.
Stories
These are published photos or videos, available for your friends to see on the feed for up to 24 hours.
Filters
It became increasingly well known for some of the innovations in the way in which it transforms photos and videos – the core currency of social media and adolescents – by using creative, zany and humorous filters. Social media filters have been found to have harmful effects on teens' mental health.
SnapMaps
That innovation stems further to locating friends dynamically, getting a pinpoint location of where your friend might be in the world. Great – as long as they're not strangers, which means extra vigilance needs to be employed for young users, particularly those who cannot recognise predator behaviour. One additional minor challenge here is the FOMO struggle of seeing who is where at the weekend and realising you didn't make the social cut. NFI.
Streaks
What has been perhaps equally popular is Snap Streaks – the trading of Snaps daily, to receive a little reward in the form of acknowledging how long your streak is lasting. The reward that is most important to mention is dopamine, which keeps kids coming back for more to trade snaps with each other in order to continue their daily streak. However, these streaks often come to represent the state of the friendship, sending teens to great lengths to protect their Snap Streaks out of fear of damaging friendships.
Lenses
As we move into a world of AR, now we have 'lenses' – transforming what's on-screen into an augmented reality experience, adding 3d special effects, objects, or characters, essentially almost holographic images around them. What's not to love there at this age.
Games
They can play snap games, which is a series of games in which they can play with either a random stranger or one of their friends.
Privacy and data
These 'sticky' gimmicks, all come together in one glorious win for Snapchat, time spent on the app, the harvesting of data, and the targeted use of ads based upon that data. And Snapchat has been well-known to make good use of that data, as reported by the media on many occasions.
Photo 'storage' and memory tagging
There are other aspects like the ability to save their 'Memories' specifically under a private pin code. Again, these can be of course largely harmless, depending on the child.
The Invisible Risks
The first invisible risk is to apply broad brush strokes to every child using Snapchat. They aren't all the same, they don't all use the app the same, and they don't all take the same risks. Assess your child based on what's going on in your home (are they feeling settled given what's happening for them at the time), what's happening in their friend group, and what are their evolving behaviours with regard to noticing any big changes. Those can be indicators that something is worryingly up.
In the right hands and parenting, most of this is not particularly harmful. But without the education of parents, schools and children, they won't know what they can stumble into. Failure to educate is the biggest risk. Blind use of an app that reaches out into the world comes with hazards. Start there, get a program into your school so that gets everyone on the same page.
This is important because, if learners or teens and preteens don't have private accounts, if they don't exercise any of the useful functions that sit inside the privacy settings of the app, then they are exposed. In addition, if they allow certain behaviours – bullying or predator approaches – and not tell you about it, this can spin into real physical or emotional harm.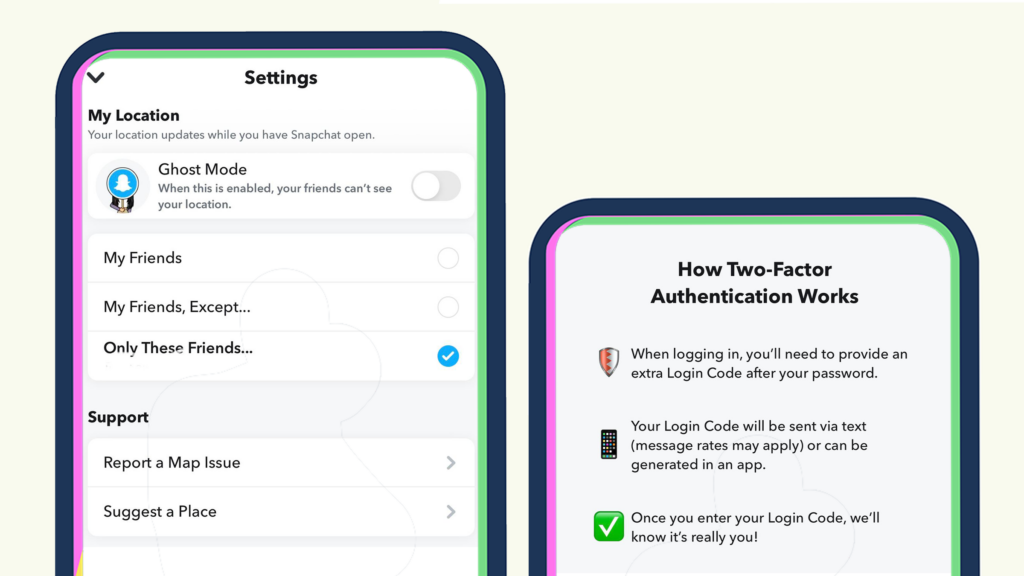 The Well-Known Risks
Obsessive use
Change in behaviour, due to withdrawal from the app
Over-exposure to inappropriate content
Unwanted approaches from strangers
Sextual content and sexting
The associated mental health influence of comparing yourself to others
Solutions
Be involved
Self-educate on the app (like you're doing right now!)
Talk with your kids at dinner
Express an interest
Share your own personal stories you have heard with them
No phones in rooms at night (before the age of 16 at least)
How do you get to the settings on the app?
Click on the cog icon which will take you to settings, and in this section, you can find a selection of settings for you to monitor and adjust to protect your child online
What settings are the most important?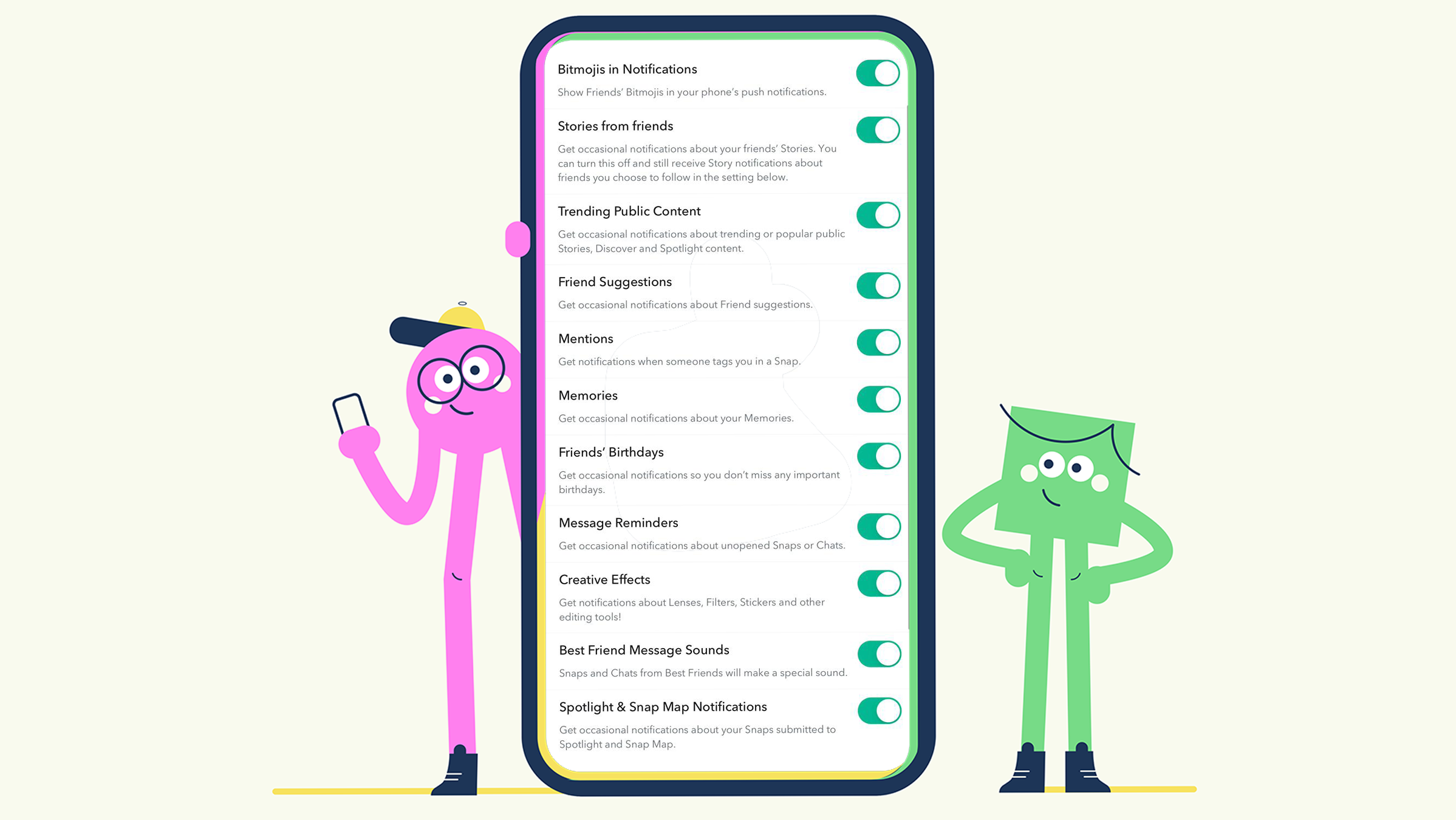 Add Two Factor Authentication
Change the settings for:

Who can contact your child
Who can view your child's story
See your location
Who can see you in 'Quick Add' – basically a directory of everyone on Snapchat – turn this off
In this overall settings section, you will see (sadly way too tucked away) the Snapchat Safety Centre
In terms of location, you can select Ghost mode, which means your location cannot be seen.
In terms of stopping abusive Snaps, kids need to report them, by pressing on the Snap and selecting Report, or they can select to Block the user.

You can also:

Report a safety concern
Pose a privacy question
Request help from Snapchat
Or clear previously stored data across history, cameos, conversations, and more
What if you cannot change the settings on your child's device because the ship has sailed and now it's too late and there will be a serious battle about this issue?
Use a monitoring solution like Bark, which may also be met with equal resistance.
For the real deal in educating teens and pre-teens relatably, there is only one choice. Student data reveals that. Check out MySociaLife for current necessary programs that every teen and tween needs to see to be safer and smarter online.